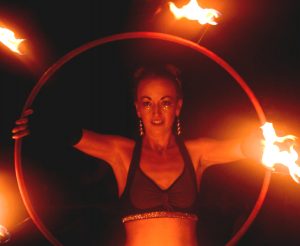 THE FIRE SHOW HAS BEEN CANCELLED DUE TO THE EFFECTS OF HURRICANE LEE. 
Held on September 16, 2023, our Annual Fire Show is going to look a bit different this year with an additional act onstage, featuring a choreographed LED performance and music on the Seashell Stage, followed by a slightly shorter-than-usual show on the sand. Following the stage activities, which starts at 7 p.m., you'll want to make your way onto our sandy beach near the playground for a blazing hot performance! Let the Boston Circus Guild's fire performers delight and amaze you with a fully choreographed, high-energy, live display of the fire arts. The show features flame-wielding performers who spin, juggle and dance with blazing props. The Fire Show begins at 8:30 p.m.
These daredevils combine jaw-dropping stunts, graceful movement and just enough comedy to create an unforgettable experience for audiences of all ages.
***The Boston Circus Guild is a collaborative membership-based organization of over fifty musicians, artists, circus performers, dancers, and event producers from the New England area. ***
bostoncircusguild.com.