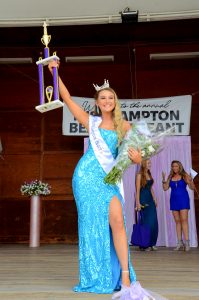 Join us this year for the 76th Miss Hampton Beach Pageant at the Seashell Stage July 31, 2022 at 2 p.m. Free Event! Interested Contestants should contact Stephanie Lussier at 603-512-5257 (cell phone). Click here for an Application, Guidelines and Rules.
Little/Junior Miss Hampton Beach, at the Seashell Stage on July 30, 2022 at 2 p.m. – A sister pageant to Miss Hampton Beach. We will be crowning a Little Miss and Junior Miss Hampton Beach to help in promoting our seacoast area. Click here for an Application, Guidelines and Rules or contact Director Stephanie Rose Lussier 603-512-5257 or [email protected].
The "Queens" of Hampton Beach have already participated in many events, including Children's Week, National Night Out, Monday Night Movie on the Beach, and "Sand Art with Subby." They also helped to introduce the first Act at the Circus this year. Later this year, they will attend the Christmas Parade, then begin a fun-packed summer 2023 season with the Sand Sculpting Event and so much more before they hand the crowns to the 77th Miss Hampton Beach, Jr. Miss Hampton Beach and Little Miss Hampton Beach.